Dining
Experience Dining at WCC
Exquisite aromas, fresh, savory specials and unique cuisine. WCC has a variety of dining options for its Members, both casual and formal, as well as rooms for professional use. Let our Executive Chef, Paul Neu and our team of professionals engulf your senses and tantalize your tastes with cuisine made just the way you like it.
THE GRILLE
Our Grille is the heart of our Club, offering breakfast, lunch and dinner. It is a gathering place for family and friends, a host to casual lunch meetings, and the hot spot for dinner in the evening. This dining area features bay windows and a spectacular view of the Club's famous 18th green. Designed for both casual and family dining with warm surroundings, two fireplaces, and large screen televisions, this is the perfect room to relax in while trying out some of Chef's famous dishes. For major holidays (Mother's Day, Easter, Thanksgiving, and Santa Brunch) the Grille hosts a grand buffet, and on Sunday's we have our ever popular brunch buffet.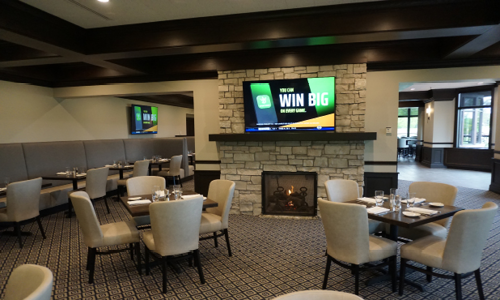 THE BAR
Our bar area offers a pub-like setting for casual dining, sharing a menu with the Grille. Featuring a spectacular view of the golf course, a winding bar, large screen televisions, and a fireplace surrounded by deep, comfortable chairs - the bar is a favorite gathering area of our Members, be it for cocktails and dinner or a game of cards.


THE DINING ROOM
Our Main Dining Room is our more formal dining room used for business meetings and private parties. This room radiates the old English ambiance of our Club's history with warm, wood paneling, a marble fireplace, grand piano and crystal chandeliers. It also has great views of the golf course, with a wall of windows facing the north side.
OUTDOOR DINING
During the summer months we also have outdoor dining available. With gorgeous views of the golf course, the pool and our wonderful flower gardens, dining outdoors during Minnesota's summer months extends late into the evenings. The Patio, our poolside dining, features the Grille menu and a portable bar, along with the Villa, our poolside "snack shack". The course side of the clubhouse is the Deck, with a stand-up bar and outdoor seating, which is connected to our Grille, Cocktail Bar and Main Dining Room.




We are delighted to serve our Members with the highest quality fare and service. Bon Appetit!